Deputy Director Mr. Andrew Newman
– Firstly, I'd like to know how this hospital started.
Dr. Tith and Dr. Ob Samon started a small clinic in 1996, about 20 years ago. Roomchang has since moved three times and become larger and larger. We completed the purpose-built dental hospital 3 years ago.
– I think it's unusual that all of the buildings are used for dental treatment. How do you use each floor?
The hospital has 10 floors. 1st floor is for lectures and when dentists discuss cases. The 2nd floor is for the administration team and our in house Digital Dental Lab. Two floors the 3rd and 8th have specialized surgery rooms. Treatment is currently carried out on 4 floors, next year we will be expanding to the 5th floor as well. All floors have autoclave sterilization rooms. These rooms have large glass windows and patients can observe the instruments being sterilized. Roomchang has one more branch at Rose Condo near Aeon Mall.
– What kind of patients are you taking care of?
Everybody. Roomchang has a very diverse patient base, from local Cambodians to people from all corners of the globe. People come to Roomchang for the quality of treatment and service and the products we use. It is a safe and very cost effective choice. Transparency is very important to us and we keep patients informed of treatments and materials used. All our prices are available on our website, as are all the materials that we use. For these reasons, people are now coming from all over the world to see us for dental care.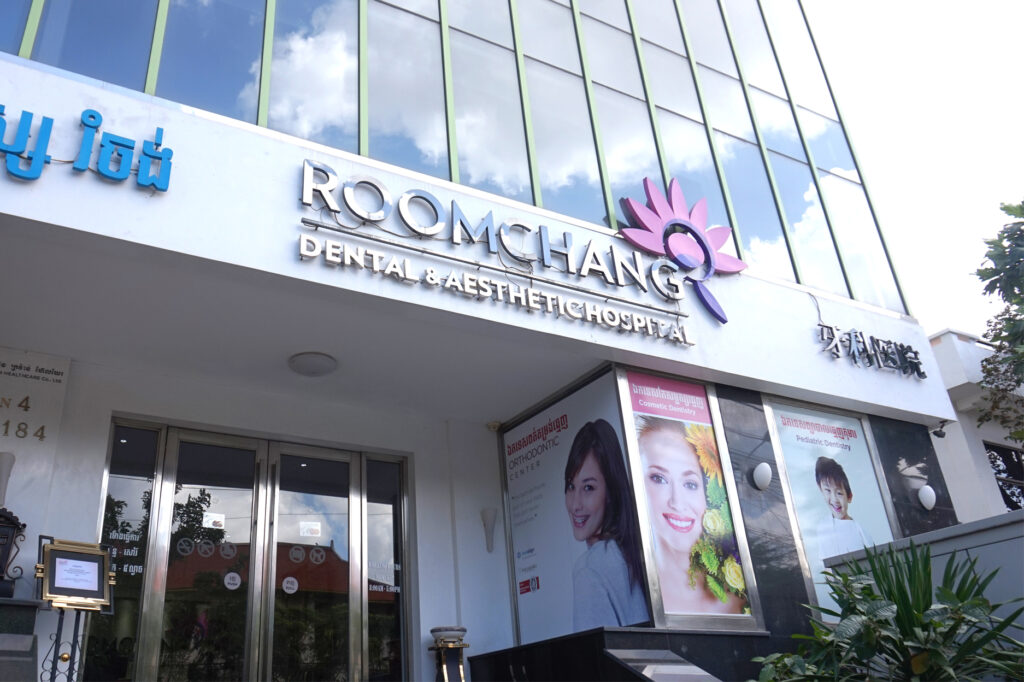 – What are the most common treatments that patients have at your hospital?
Treatments are as diverse as our patients. From a simple check up to fillings and root canals to full mouth reconstructions, some of our specialists are well known and respected around the world.
– What is important at the dental hospital?
Attention to the details and putting the patient first. It's very important to catch the small issues before they get bigger. We recommend everyone to get a check up and cleaning twice a year. Dentists can find cavities or potential threats that simply can not be checked at home. Nobody wants to lose natural teeth but when it does happen it's good to know there are safe and proven options. Education is key for all our patients; brushing correctly, flossing, and a good mouthwash are all part of that.
– You have been to many provinces to treat for free.
Our dentists participate in charity work about 8 to 10 times a year. The dental complaints we see in rural Cambodia are similar to the basic things we see in Phnom Penh. The main difference is the lack of education and sometimes there is no access to a qualified dentist. Dr. Tith the director of Roomchang also comes from a poor background, so it's very rewarding to be able to give back to the community.
– Would you tell me your future plans?
Roomchang is always looking to grow with more dentists and new branches. We are continuously sending dentists overseas for specialized training. Now we have dentists applying to observe here at Roomchang from all over the world. There is a special dental implant technique that is only done at Roomchang. In November, we will send 17 dentists to Germany. We also have one studying for her Ph.D. in Japan and will come back next year. So our Japanese patients will feel more at home.