Bophakiri Flower and Gift Shop
Lim Thon Thida
– I heard that you had been living in Japan for some years. What made you live there that long?
At the time, my uncle was the Cambodian Ambassador to Japan. Having considered the Cambodian situation, he recommended that it is better to return to the home country after studying in Japan. That was the true reason. I started working at the embassy at the age of 18, and the languages, as well as the food, were all very different. It was quite hard.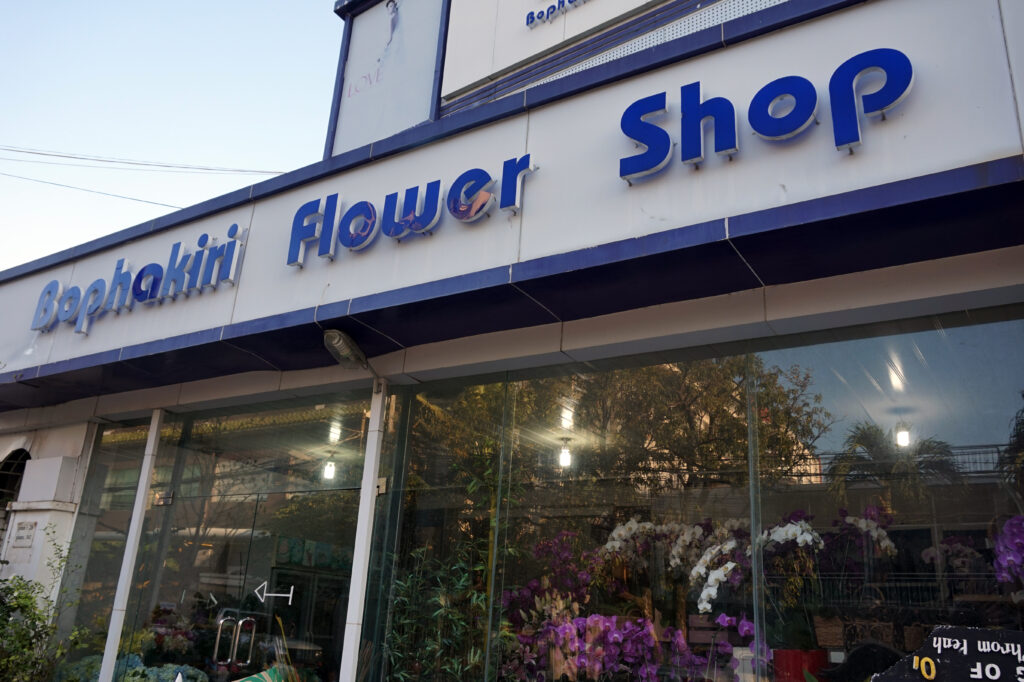 – Why did you think of going to learn Ikebana, a Japanese flower arrangement?
Although lots of people often came to the embassy with a bouquet of flowers, I did not know how to decorate it, hence the result was not nice. I thought of going to study Ikebana when the term of office was over, so I started going to the Ikebana classroom. I studied for five years and was able to show my work in the exhibition. I also studied makeup, and how to wear the Kimono when I was a person in charge of the costumes at the wedding ceremony. I also worked for a cake shop for 2 years, while all of my time after working hours and the holidays was devoted to studying.
– After returning to Cambodia, how did you start up your own business?
Initially, I wanted to open a cake shop, but finally, I gave the idea up due to not being able to find the necessary equipment at the time. Friends, who returned home at that same time, advised, "If you like make-up and flowers, why don't you start up that business". That motivated me to change my mind, then I decided to open the Bophakiri, the first full-scale florist in Cambodia. At first, I started selling fresh flowers. At the time, there were lots of wedding and party decorations than selling fresh flowers. I tried to design these with the bride and groom, to use the cakes with a wedding. I told the customers my ideas that were born while studying in Japan. I started doing advertisements on Facebook two years ago. I posted my phone number and a photo of a bouquet every day.
That seems to have effectively attracted lots of customers.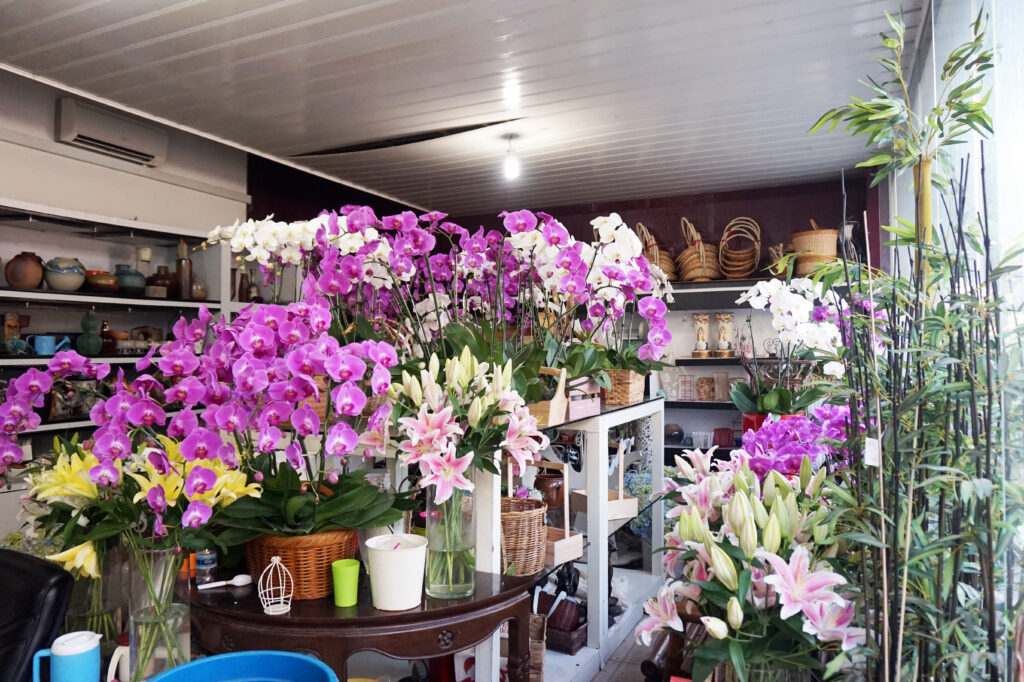 – What are the hardest things in management?
Actually, the worst concern is that the staff throws up the job lightly in spite of my difficulty teaching new staff how to do the work. I am considering why Cambodian people don't try to work hard as Japanese people.
– When did you feel the living standards in Phnom Penh had changed?
About two years ago. The salon and Japanese restaurants have increased. It became common to hold an opening ceremony party or birthday party. Wedding styles also changed from the old days.
– In recently, the number of florists has also increased. How do you perceive the current situation as a pioneer?
The people working in this field are all my students. They came from the provinces to study in order to open their own shop. I had told all of my experience to my students, but the flower arrangement is completely different from one to another upon the completion. They may open a store in the same way, but it would be better if they make use of new ideas.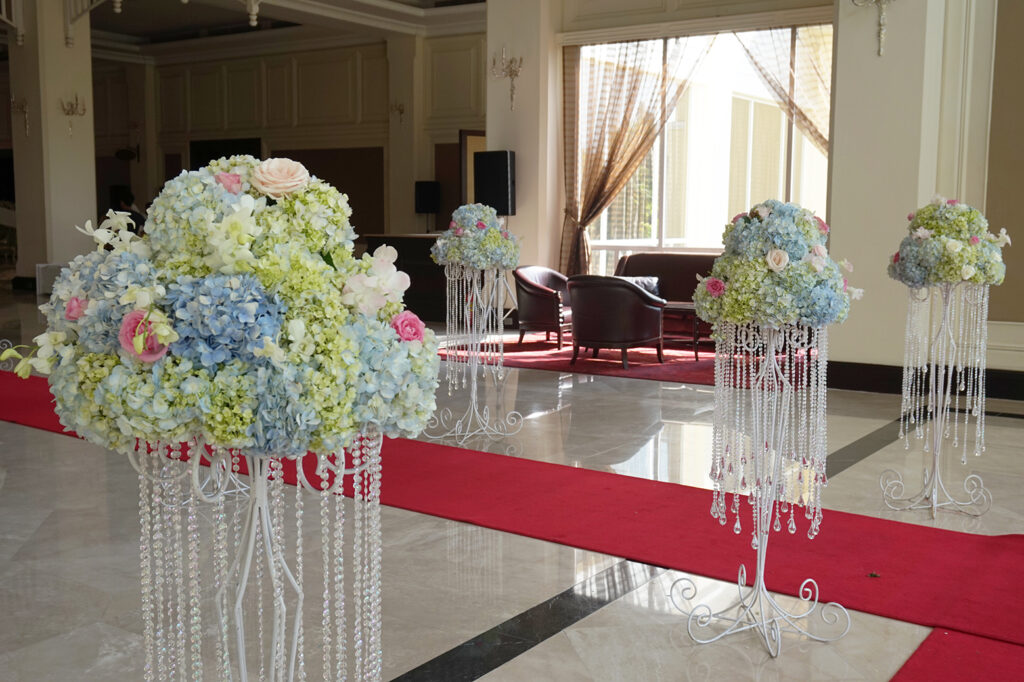 – Please tell us about your plans for the future.
My main work has been wedding ceremony, but due to the need to work until late at night and the number of materials and staff required, I want to refrain from it. Recently, there's been increasing numbers of orders for bouquets or flower baskets for celebrations. In the future, I'm going to change direction to focus on costume design for the wedding ceremony and online gift sales instead. I'm also considering opening a new florist shop as well.
– Please give some advice to those who want to start up their own business.
Just start it up if there is something that you want to do. It is important to pursue it despite the difficulties. If you just immediately change to something different, it's not going to be successful. In the beginning, it was hard for me to pay salaries and rent when there were not any customers. I believed that it would be better later if I tackled it desperately. Customers show their joyful faces when looking at the bouquets, and the words of praise from the customers who were satisfied with their own wedding ceremony, those things gave me the power. Now, everyone knows the name of the Bophakiri I thought it was good to have done all my best with this business. To those who are working people or those who have their own business, I would like them to desperately try their best in what they are doing.