Regional Manager Mr.Takayuki Nagao
– It became the current system in 2008, and I have a very energetic impression of the company. What is the concept?
Owndays' greatest concept is simplicity. Conventional glasses stores have an additional charge for thin lenses and astigmatism, so you do not know the exact price before you buy. But our store offers the optimal thickness lens of any power to people at no additional charge and can make glasses based on the sticker price of the frame. It is plain simple pricing.
It is also a feature for us to display products without putting them in glass cases so that customers can easily pick them up. Traditionally, when you want to try the product on you have to call the clerk to take them out of the case for you. When you want to try on various products it is troublesome to ask many times and you also feel sorry for the clerk. But in our store, anyone can feel free to try on even several pairs without hesitation. In addition, we think glasses are not only a vision correction instrument but also a part of fashion. Usually, more than 1,500 frames are on display and we also launch new products weekly, so as to deliver the latest fashion. We have original brands of our own planning and design full of individuality that is tailored to gender and age groups. Each has a distinctive concept, which can be chosen based on fashion or application.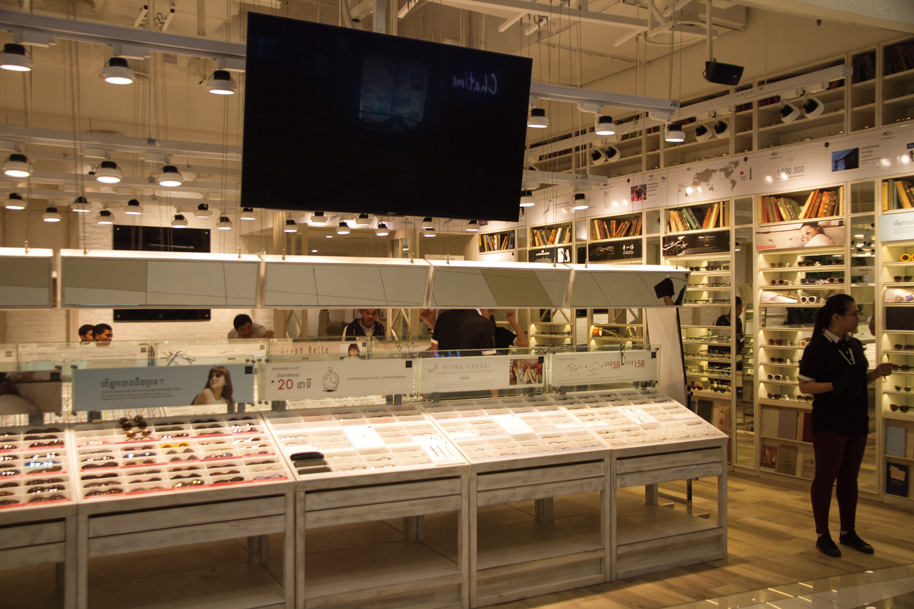 – What made you expand into Singapore in 2013, and across ASEAN in 2015?
We paid attention to ASEAN because its economic growth is significant and its purchasing power has dramatically improved. Singapore, which became the first base of our overseas expansion, has a notably high-income level and high economic growth, and we feel its success provided a tailwind for the later overseas expansion.
– What is the customer service guidance provided to staff?
Of course, we emphasize the consciousness of professional service even in Cambodia. We use a customer service manual from Japan and check with the training. Since Cambodians are friendlier than Japanese, we keep in mind truly Cambodian-style service combined with Japanese courteousness.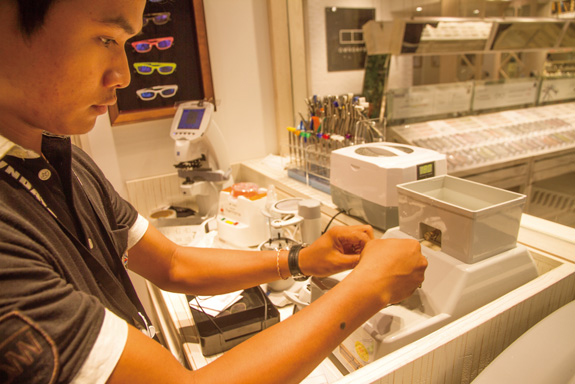 – What are the points that you focus on and the points that you struggle with in particular?
In particular, we focus on technical education for inspection and processing because we are opticians. Customer service is also important, but in order for staff to propose an optimal power and comfortable product to customers, we put an emphasis on improving technology and knowledge. We perform office training, testing, and the like so that we can provide services to customers by using advanced technology. This includes establishing an in-house qualification system for glasses processing and inspection technicians and a floor staff test. We are constantly working to improve our processing technologies and the glasses knowledge and customer service skills of all staff that will be evaluated and judged on various levels.
On the other hand, opinions often conflict with the local staff because of cultural differences with Japan. We have trouble adjusting our approach so as not to lower Japanese quality standards but make a concession that acknowledges Cambodian culture.