SATHAPANA BANK PLC.
CEO Mr. Norihiko Kato
– Please let me ask about your feelings when you were suggested to become a CEO.
I have been considering for the last few months the replacement of the CEO in Sathapana bank. As a result, after the predecessor Mr. BUN Mony resigned from CEO at the end of November, I started to assume the position on the 8th of December. In the case of a bank, changing of CEO needs approval from the National Bank of Cambodia, who is the competent authority, before an official announcement is made.
– So far, the presidents have been all Cambodian residents, but this time the president is Japanese. Is there any intention behind this change?
There is no special intention of intensifying Japan or Cambodia behind this change. Mr. BUN Mony has been a parent in raising microfinance and has contributed to this field in many ways. In the future, Sathapana Bank, still being the largest and the most important microfinance institute, will also become a commercial bank that can provide services such as payment services, internet banking, mobile banking, trade finance, etc. Additionally, with the development of the living condition of Cambodian people, I think that we have to get ourselves ready to fulfill the need for more services besides microfinance services including individual housing loans or study loans in addition to small loans. As a result of various discussions, it has been decided that the next president, rather than a professional in microfinance, the president should be a professional in commercial banking. This time, the president is Japanese, but this doesn't mean that only Japanese people can do it; either a Cambodian or a foreigner can also do the job very well. This time, I have been selected due to the perspective of expanding the banking business, and it is just a coincidence that I am Japanese.
たま日本人であったという事です。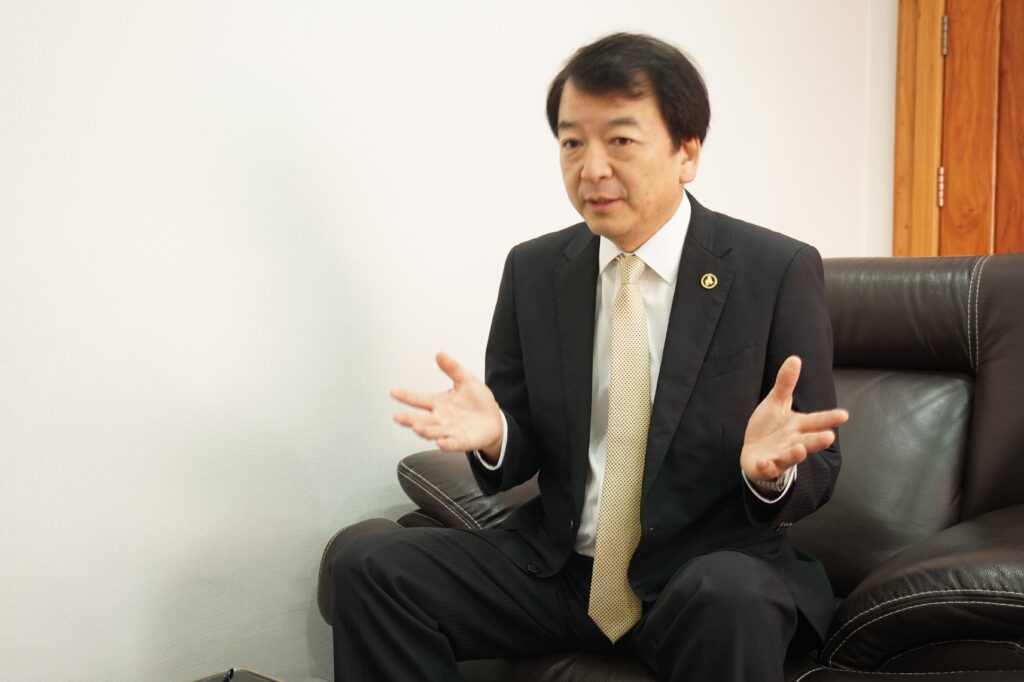 – So, Mr. Kato, as a new president, can you tell us about your career experience?
I am from the Bank of Tokyo-Mitsubishi UFJ, which was previously the Bank of Tokyo, working there for 28 years. Besides working in Tokyo, I also used to work in New York and Amsterdam. After my resignation, I started to work as a general manager responsible for the Near and Middle East of Bahrain, and also worked as a regional general manager who was in charge of the areas including North Africa and Turkey.
After I had resigned from the bank, I was working for 8 months as an adviser in Khan Bank which was a top commercial bank in Mongolia. After that, I returned to Tokyo and started to work in Minebea Company which also had opened a branch in Cambodia. However, after a period of time, I returned back to Mongolia and was assigned to be the CEO of Khan bank, and worked for a period of 4 years and a half by March this year. Thereafter, I returned to Tokyo again, and as a turn of fate, I started a job in Maruhan bank, and was assigned to be the head of the overseas financial business division, a division that had been newly established. Maruhan bank has been running financial business not only in Cambodia, but also in Myanmar and Laos, but I was in the position of focusing on supervising the financial business in these 3 countries from Tokyo city. After that, when Mr. Mony and I were discussing about the future of the bank, changing CEO came up as a topic in our discussion.
– So, it means that this change would be a new step up for Sathapana bank. Is it correct?
You are right. Originally, the fact that Sathapana became a bank was the first case ever and it had gained a lot of attention. A successful microfinance institute has combined with a commercial bank to continue the license as a commercial bank, starting from one location but managing to expand to 160 branches at a very high speed. With the development of Cambodia's economy and the improvement of the living standard in Cambodia, more and more customers have expressed their demands for more services other than the service of microfinance. Sathapana bank has an intention to accordingly respond to the diversification and intensification of customers' needs in financial services, by which we can contribute to the improvement of the living standard of Cambodian people.