M's Ramen Store Manager Mr. Tomonari Tsubouchi
– So when did you reopen the restaurant after the renovation and turn Poki Poke into M's ramen?
It was on February 1st.
– I tasted the ramen earlier. It's serious ramen, isn't it?
First, I was a manager of a ramen restaurant in Japan, and I knew how to make it somehow, so I didn't need to take much time on making it from nothing. I use a different recipe now, but I know how it works. Secondly, when I consider the skills of our Cambodian staff, I decided to make it a ramen restaurant specializing in soup which takes a long time. Therefore, now the restaurant can be run only by our Cambodian staff.
It takes 8-10 hours just to make the soup with ingredients boiled and cooked together in a huge hot pot, and I think it does taste good.
– That's so long time. I'm surprised.
I know. I think all the people around me thought so, too. I suddenly turned Poki Poke into a ramen restaurant, and they never knew my experience of working at a ramen restaurant in Japan as a manager, so I thought people would expect it to be just another so-so ramen in town, and I thought it would be alright if I could make it better than people would expect it to be.
– Now you have only 2 items on the menu, soy sauce-based ramen, and salt-based ramen. Will you have more items on the menu in the future?
I'm going to make the number of the items about 4 times bigger. Also, It's just a ramen restaurant now, but I'm thinking of turning it into an Izakaya (a restaurant bar) in the evening hours in the future. If I hire another Japanese staff, he can manage the ramen restaurant in the daytime by himself and I can make menus for the Izakaya.
I will make the open hours until 2 am in the future, and the best concept for it would be "a bowl of ramen to conclude the night after drinking". I've been trying to make new items on the menu and tasting them, again and again, to make them better, and I don't mind changing the items on the menu from time to time.
First, I would start with Japanese standard curry and rice. All our staff needs to do is just to put the curry on the rice.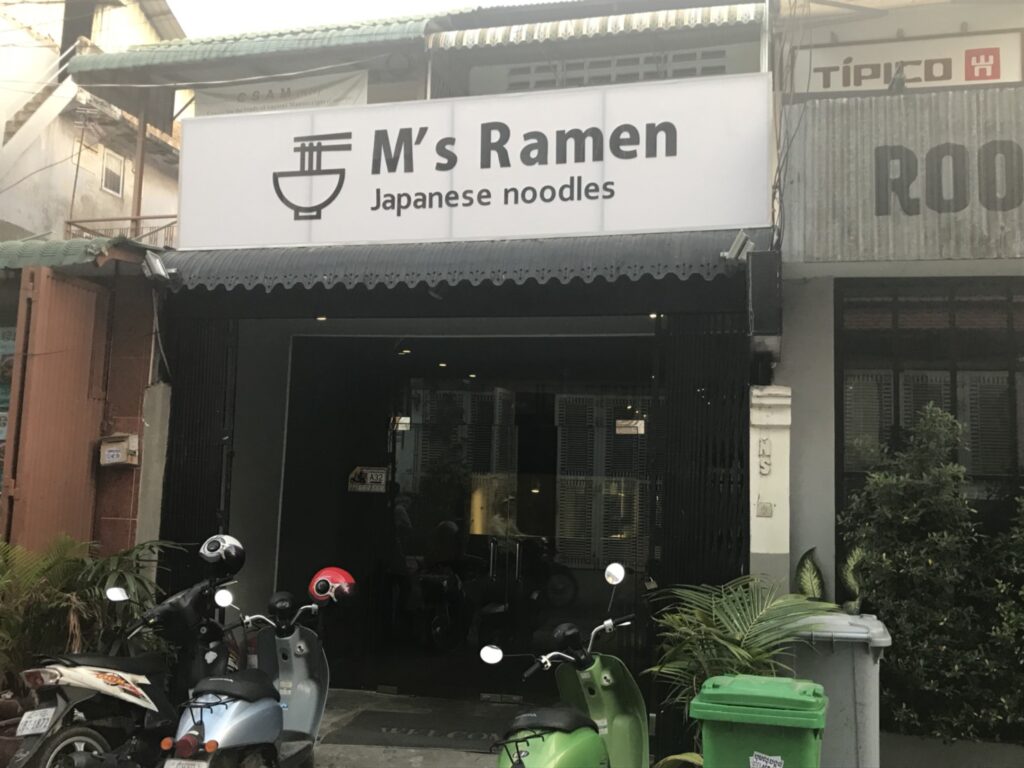 – As I imagined, making it really quick is important, right?
It's the most important thing. Customers want it to be served as soon as possible.
– Are you putting the reflections on the operation of Poki Poke to use?
In the first place, using ingredients whose prices always fluctuate is not a smart choice for a restaurant business. It could affect the business a lot by some chance. Therefore, I had been thinking about stopping such a restaurant business as Poki Poke.
– So, were you fully ready for the opening of the new restaurant?
I'm not sure. I'll see how it goes in the first month, listening to what our customers say and making it better and better.
For the ramen menu, I'm going to have more items in accordance with the customers' requests, and I'm going to make a new ramen item once every 2 weeks, and the ones that our customers liked will be on the grand menu.
And we'll also make some hidden items which are especially for Japanese people.
– So, are your main target customers Japanese people?
I think it'll be Japanese people in the evening and westerners in the daytime.
– There are very few Japanese restaurants that are open until 2 a.m., I suppose.
I think so, too. I would always make something new. We can't be successful in this satiation of Japanese restaurants in town if we are just another one of them.
It's fine if opening till 2 a.m. wouldn't work with no customers in the late time. Even if there are not so many customers, we are still open and taking it easy, so it's the best thing we could expect that some customers come to enjoy drinking with us.
*When we were having this conversation, a Cambodian customer suddenly came over with 2 bottles of beer and handed one to Mr. Tsubouchi.
– There actually are customers who want to drink with you, as we were talking about just now.
He is one of the staff the next door, and I frequently drink with people around here, and they always help me when I need it. Therefore, even if we have some trouble opening till 2 a.m., I would expect them to help us out.
– It is the first newly opened ramen restaurant in a while in Phnom Penh, isn't it?
At the end of December, I was told by my president that we would open a ramen restaurant, but there was no mention about when to start or anything particular, but at the real end of December, he asked me to open it on January 15th, even though we were not even sure if we open a ramen restaurant or not, but I prepared for it in a hurry, and we expected that we could open the restaurant on 20th, 5 days later than the first plan, but we had some license-related issues and it was postponed to February 1st. We were not completely ready by the opening, but I wanted to serve at least good ramen and Gyoza, so I made them refer to the recipe of them that I remembered.
– Do you not advertise your restaurant much?
No. I advertised my restaurant a little bit on Facebook on the opening day, but basically, we want to get data on how many people will come without any advertisement in the first month, so we don't do much advertisement at the moment. And if we do more advertisement in the future will depend on the situation. Anyways, we are having more customers than we expected so far.
– I'm looking forward to the future of your restaurant.
We'll have no break for a while, and we always want to be something new with new items on the menu and different concepts according to the seasons.