OS School Japanese teacher Ms. Fumiki Miura
– First of all, could you tell us about OS school?
OS school is the first vocational training school in Cambodia which was founded in March this year by 3 different organizations, the Ministry of Education of Cambodia, an NGO called "Pay it Forward" and our organization "OS Cambodia". Therefore, we are able to use unused space in Boeung Keng Kang high school for free with the support of the Ministry of Education.
– What is the purpose of the school?
The problems with education in Cambodia are well-known, I suppose. While economic growth has been accelerating in Cambodia, if the educational standard, which will be fundamental to the growth, doesn't improve, the gap between the rich and the poor would be bigger and bigger.
If this problem needs to be solved only by Cambodian people, it'd take a lot of time, then we'd like to educate Cambodian people who'll be able to develop the society by themselves in the future by offering education of high quality, cooperating with Ministry of Education. That's the main purpose of the school.
Therefore, our school motto is "to create the future" by "feel it", "think of it", "try it", "enjoy it" and "appreciate every meeting".
– I heard that you teach morality besides the Japanese language in the school. Can you give us some details of it?
For example, when the school started, there was trash everywhere. There were people who'd throw trash on the floor and no one cleaned it. Therefore, we taught teachers the purpose and the importance of cleaning first, and after they understood it, we taught it to students. Then, we put a sign in the school saying "Clean the school" and told everyone to clean the school thoroughly.
And now, our classrooms are very clean and also teachers of Boeung Keng Kang high school came to know the importance of cleaning and started cleaning the school independently, making signs to encourage everyone to clean the school, which made the whole school building clean.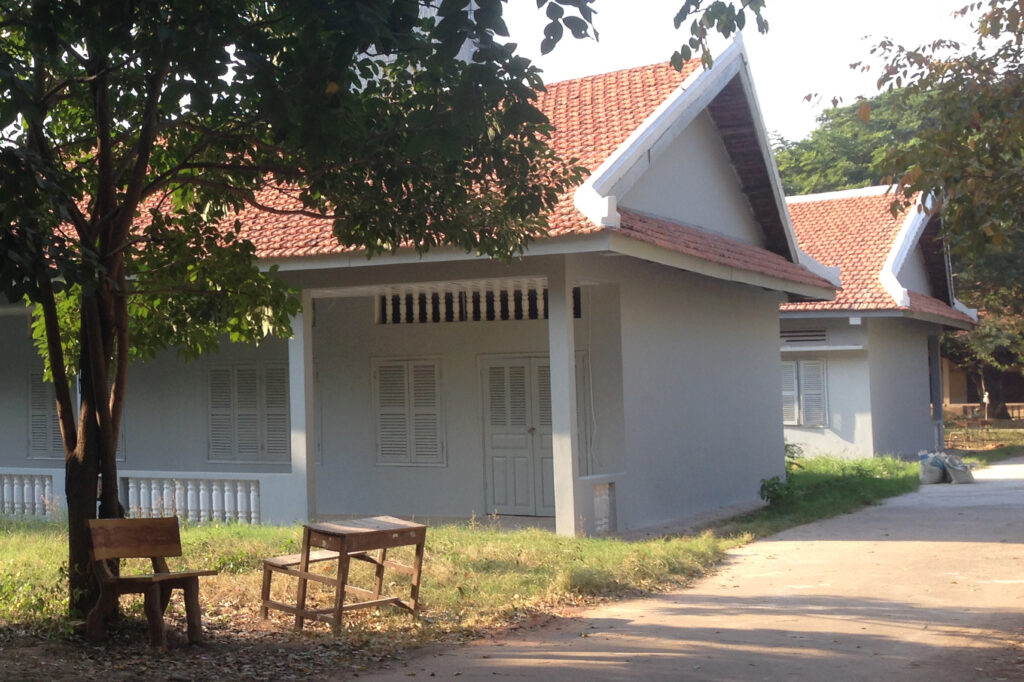 – There are many Japanese language schools in Cambodia, so what's the strength of OS school?
As I mentioned earlier, the biggest thing is that we are supported by the Ministry of Education. As we can use the space in the high school for free, even the "free of charge" courses are fulfilling. However, only Japanese language skill doesn't make students successful after they get a job. Therefore, we carefully teach them why Japanese people are punctual and why greeting is very important for Japanese people, hoping they to become able to notice important things by themselves in the future. In that way, Cambodian people will be able to think in the other one's shoes and learn the minds of Japanese hospitality, which Cambodian people are not really good at.
Furthermore, our parent company "OS Cambodia" is a staffing agency with know-how that we developed by engaging in education in many countries, which makes it possible to foster outstanding human resources that can be an immediate asset to a company by focusing on what kind of people are needed in the actual field.
We also do the evaluation on paper by both teachers and students themselves, which is like a school report in Japan and can be used when companies do employment interviews and it can be students' motivation as well.
We also visit companies for educational classes in accordance with their requests. There was their staff who used not to be punctual, but our classes changed their way of thinking toward working and resulted in a better rate of attendance. Furthermore, we use the Japanese language in the classes, so students become able to write and read basic Japanese, greet in Japanese and learn the attitude of work in Japanese way, which the companies really appreciate. Those are just ordinary things in Japan, though.
– That's attractive indeed, but can anyone enter the "free of charge" course if applied?
To enter the school, they have to pass a written examination and an interview. The exam is to test common knowledge in the Khmer language, and the interview is to see how much they are motivated to study, which we consider being the most important thing when we choose new students. Therefore, if an examinee's score on the written exam isn't good but we feel that he is really motivated to study Japanese, we let him enter the school.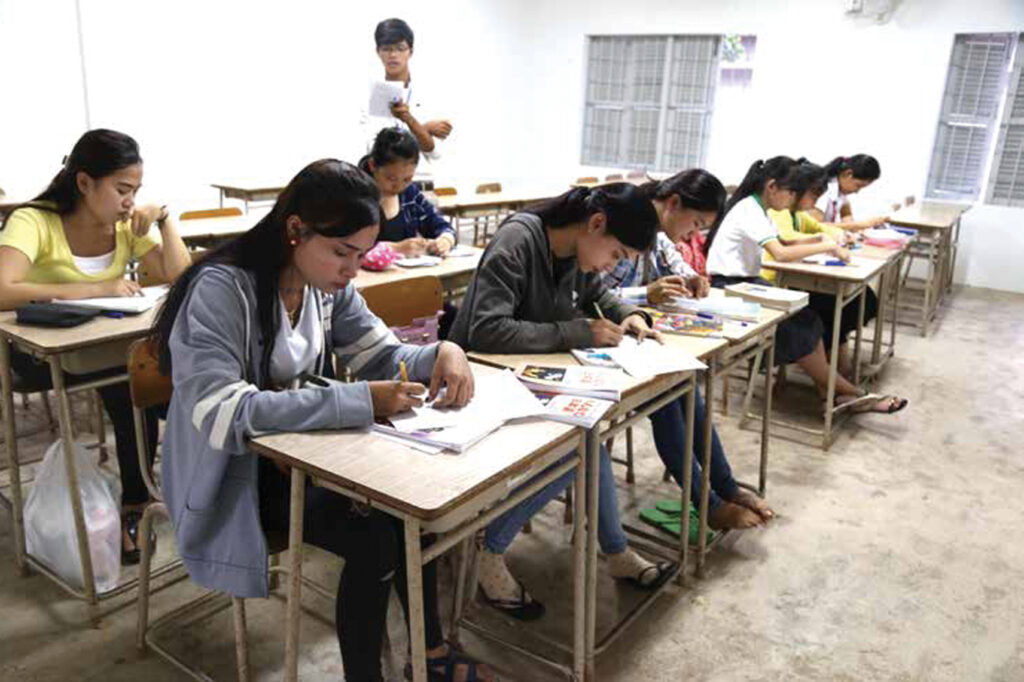 – Your parent company "OS Cambodia" is a corporation, so if the profitability for the company comes first, the new students could tend to be only initially-smart people or rich people and the education can't be reached to those who really need it. What do you think?
Of course, business results are important for the company, and companies to which we introduce our students want good students as well. However, if we only concentrate on it, we'd have only classes for which we charge students, which is contrary to our policy. That's why we have classes free of charge with the support of the Ministry of Education.
There are many people who fail graduation tests at high school or can't go to university because of poverty. There are also bullies in schools in Cambodia just like in Japan, and that can be a reason for some kids not being able to attend a school or go anywhere else. We'd like to give a chance to everyone and anyone who has some problems like those. That's why we put more emphasis on examinees' motivation than the scores on the written exam.
– Finally, please tell us about your objectives in the future.
There are a lot of objectives, but for now, we want the students we've been teaching at the moment to grow and mature and make their dreams come true. Some of our students say that they want to be teachers at our school after graduating, so we'd be glad if some of our students who leaned here come back to teach to the next generation. And we can give more Cambodian people a chance when this school is known more, so we want to raise our name value in Cambodia in addition to the improvement of the quality of our education.