Trans-Choice (Cambodia) Co., Ltd.
Adviser Mr. Myon Jese & HR Manager Mr. Din Radeth
– First, please tell me about the opportunity to enter the taxi business.
Six years ago, when we came to Phnom Penh, we were surprised that no taxis were running at all. Despite Phnom Penh is the capital city of Cambodia, the only one was the Global Taxi.
In Thailand and Vietnam, there were a lot of tuk-tuks and motorbike taxis running like Cambodia, but now a lot of taxis are running.
We thought that eventually Cambodia would become so, and we felt a business opportunity existed there.
Only two companies have properly acquired a license, including us, most are operating without acquiring a license.
Until now it may have been good, but the presence or absence of a license is very important from now on.
– What is the selling point of Choice Taxi?
We have a call center with a complete telephone system. There is also a smartphone app, so you can use it easily and conveniently.
Especially during the rainy season, such as when rain suddenly comes, it can be difficult to catch a taxi immediately. During such times, if you use our app, you'll know how soon we can pick you up, or how many minutes it takes to reach the destination.
Also, I think taxis are the best if we consider safety, especially for nighttime travel, as well as rain.
– How many taxis are there?
There are 265 in all, one driver per car, so 265 drivers are registered.
For that reason, we have our own garage and maintenance team, with Korean engineers, so we can inspect and perform maintenance as soon as there is any abnormality in the car.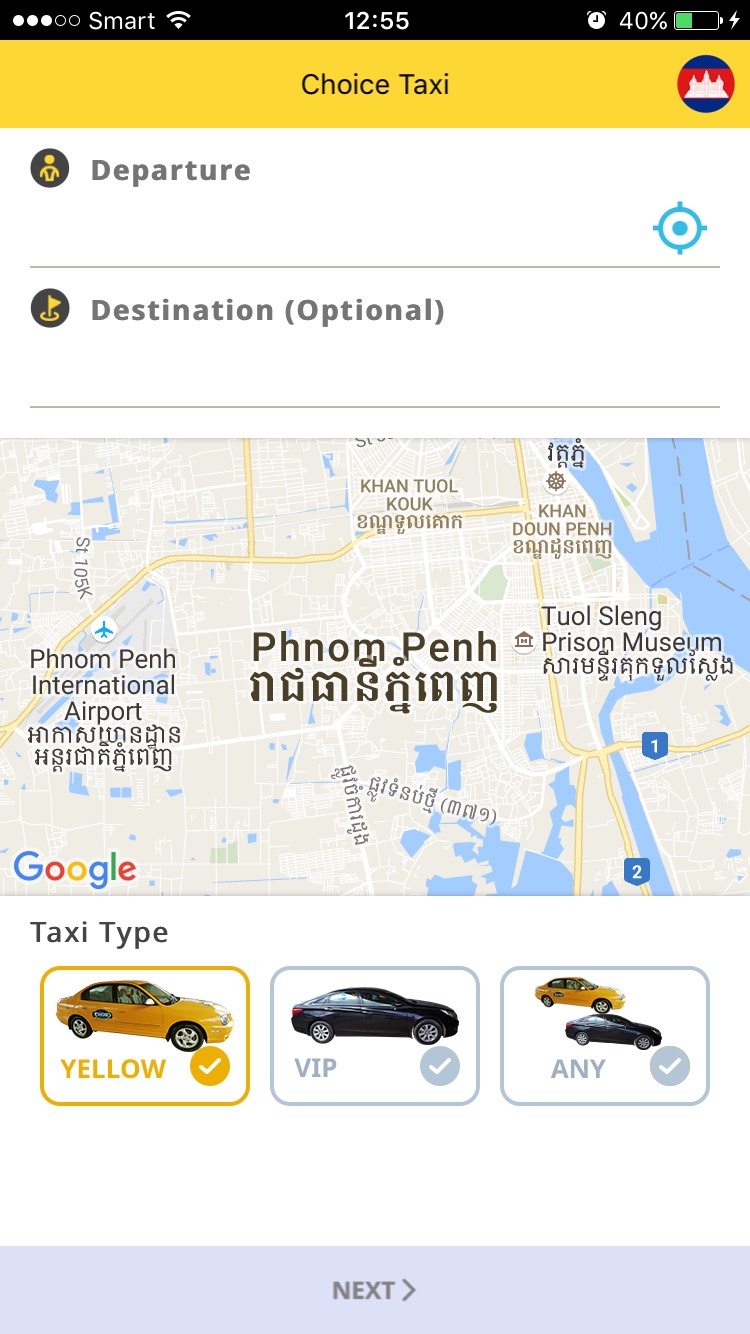 – Are there any differences between Cambodia and other countries in the taxi business?
Public transport is developed in other countries. There are trains, subways, buses and so on. Taxis are expensive compared to them. Meanwhile, in Cambodia buses finally started to run recently, but they are still fewer compared with other countries, whereas a lot of tuk-tuks and motorbike taxis are running. Taxis in Cambodia are not so expensive compared to those.
Everyone has an image that a taxi is expensive so they don't use one. It is not known that it is actually quite inexpensive.
– Your company has introduced its first app, please tell us about this.
It has only been a little over a month since we launched the app, but it has already exceeded 1000 downloads, and it is expected to increase further in the future.
The smartphone ownership rate of Cambodians is high, so we introduced it because we thought that the app is best for using taxis more conveniently and casually.
– Please tell us your future goals.
It is to become a leading company in the Cambodian taxi industry.
For example, Yellow Cab in the United States, and MK Taxi in Japan are famous. Speaking of a taxi in Cambodia, we aim for being the Choice Taxi.