Souvenir Select CEO Mr. Kotaro Yoshida
– First, what brought you to Cambodia?
I came here to start up a branch of the pharmacy chain which I used to work for in Japan.
– However, you have opened a souvenir shop recently. What made you do it?
I got the license as a pharmacist in university, but I had no obsession with becoming a pharmacist even though I had the license, then I got a job for a major pharmaceutical company as a salesperson after graduating from the university.
I ended up quitting the company with the thought that I wanted to start up my own business, and as I had a license as a pharmacist, I thought of doing my own pharmacy, so I first started to work at a pharmacy to learn how it works. However, I ended up in Cambodia with some connections and opportunities.
As I said earlier, I had no obsession about becoming a pharmacist just because I had the license, of course, I could also be a pharmacist if I wanted to be, so when I thought of what I wanted to do in Cambodia, including a job as a pharmacist, I found myself interested in business in retail which I had done for the first time in my life in Cambodia and was much more interesting business than I expected. At the same time, I got interested in this category of retail "souvenirs", so I started this business.
– If you work as a pharmacist in Japan, you'd get a more stable income and living, I suppose.
Yes. That's what I was told when I quit the pharmaceutical company. However, being a pharmacist because I have the license for it gets me some uncomfortable feelings. Of course, working as a pharmacist is more steady and safer than challenging new things, but having a license as a pharmacist can't just be a reason for me to just be a pharmacist. On the other hand, it'll be easier for those people who don't have a particular license to challenge new things, and I didn't want the fact that I have a license to limit my choices for work. It didn't mean that I didn't want to be a pharmacist. When I considered what I want to do, including working as a pharmacist equally, I chose this business for now.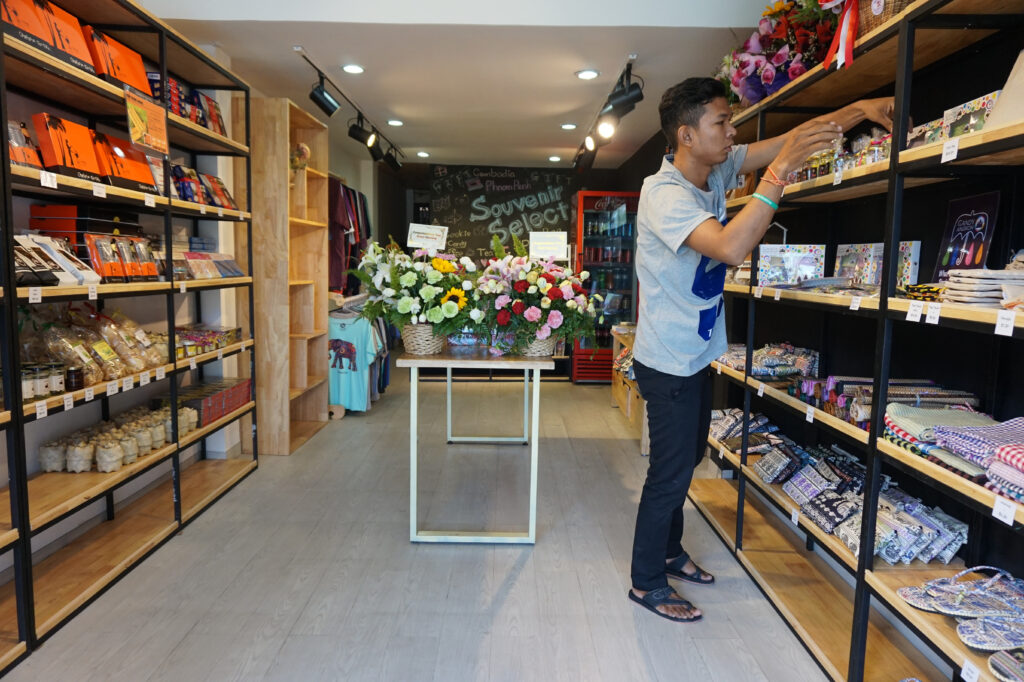 – If you do a business on souvenirs, wouldn't Siem Reap be more suitable as there are more visitors?
First of all, there are always connections that brought me here and made me start this business.
Secondly, there certainly are more visitors in Siem Reap, but there are already souvenir shops which have settled their business there, and sometimes buying souvenirs at some particular shops is included in a tour, then it'd be easier to start up our business in Phnom Penh which has been having more people for business trips and inspections rather than competing with a lot more of others from nothing in Siem Reap.
– There are already some souvenir shops owned by the Japanese, so how do you make your shop different from others?
I'm aware of not only those shops owned by the Japanese but also the airport and markets like the central market, so we'll always consider what to sell, not only pastries but also various kinds of products like Kroma、coasters, mugs or trousers, depending on the demand of the tourists. It could happen that there are completely different products in the shop in the next month.
– In the future, What kind of products would you be selling?
Every nationality has different demands, like price ranges or categories. I'll be always fixing the prices and the line-up answering the demand and requests. Also, there are products that are sold in markets but are difficult to buy because those things don't have a price tag and need a negation to buy. I'm considering putting emphasis on making it easier for people to buy those things somehow by pricing or something.
– Do you concentrate on Japanese customers?
Basically, we concentrate on Japanese people, but also everybody is our target. Therefore, I wouldn't concentrate on some particular nationality but on visitors, business people, and people who go back to their country temporarily.
– Do you think of doing anything using your strength of being a qualified pharmacist?
People tend to focus on the fact that I'm a pharmacist, but I'd rather like to be focused on some other strength of mine than as a pharmacist.
– So, what's your strength, then?
I'm not sure if it could be called strength, but I like traveling so much, and I've done a round-the-world trip, so I want to utilize the experience of traveling. I also like drinking, so it'd be nice if I could mix up those things I like for my business.
– Do you have any plans to sell your products on the internet?
It'd be possible in the future, but I haven't had a plan for it yet. I'd rather be interested in a way of selling in which I put some leaflets or catalogs in hotels, and if we get an order from a person staying in the hotel, we deliver it there.
– What are your objectives in the future?
I've just started my business in Phnom Penh, but also I'm considering doing it in Sihanoukville. And if I could achieve the sales target I've set within a couple of years, I'd like to do the same business in some other countries using the skills. I'd like to do it in a country in ASEAN, but my final object is to do this business in about 10 countries. In that way, I can do business and travel around the world at the same time.