Phnom Penh Crown FC Mr. Yuta Suzuki
– First of all, could you tell us about your carrier briefly?
I had been playing soccer until graduating from university dreaming of becoming a professional soccer player, but I wasn't even a starting member of the university's team and didn't really think that I could play in the "J-League" (Japan Professional Football League), so I became a salaryman to spend a normal life after graduating from the university.
However, I couldn't give up on becoming a professional soccer player at all, so I went to Thailand for a tryout for a professional team in Thailand, but I failed.
Therefore, I had no choice but to go back to Japan, then started to play for a local non-professional soccer team sponsored by corporations, working as a salaryman. Then I had a chance to take part in a tryout for a professional team in Division 4 in the Czech Republic through a connection of my acquaintance, and I passed it, but I came to go back to Japan after 3 months because of a lack of my skills.
However, I had not given up at all, so I practiced soccer even alone in a park sometimes and just kept physical training.
After that, I went to Myanmar for a tryout but failed. Furthermore, I went to The Philippines for another tryout and failed again.
Then, I ended up in Cambodia with a chance for another tryout and finally passed it. That was a tryout for Phnom Penh Crown FC which I belong to now.
– When was that?
It was in March this year. My dream to be a professional soccer player has finally come true at the age of 27. I had a little luck with it as well, though.
– You had never given up on it till then.
Never. I'd never forget the feeling that I had when I was about to give up once. Then I decided to keep challenging till I convince myself.
– However, signing a contract as a professional soccer player doesn't directly mean that you can play in the games, does it?
No, but I was able to make my debut in a game as a sub just a week after signing the contract, and I've been playing in every game as a starting member ever since.
– Most of your teammates would be Cambodians, so what is the communication with them like?
As our head coach is a Ukrainian, the communication among us is basically in English. Although I'm not really good at English, we can share things and understand each other to some extent as soccer players once we are on the pitch.
– However, when it comes to detailed tactics, it can't just go like that, right?
Right. Therefore, we discuss it carefully using a whiteboard occasionally until we understand it well between the head coach and players. It's also important to tell my own thoughts and ideas to the head coach. Fortunately, our general manager is a Japanese man who's fluent in English, so I ask him to translate occasionally.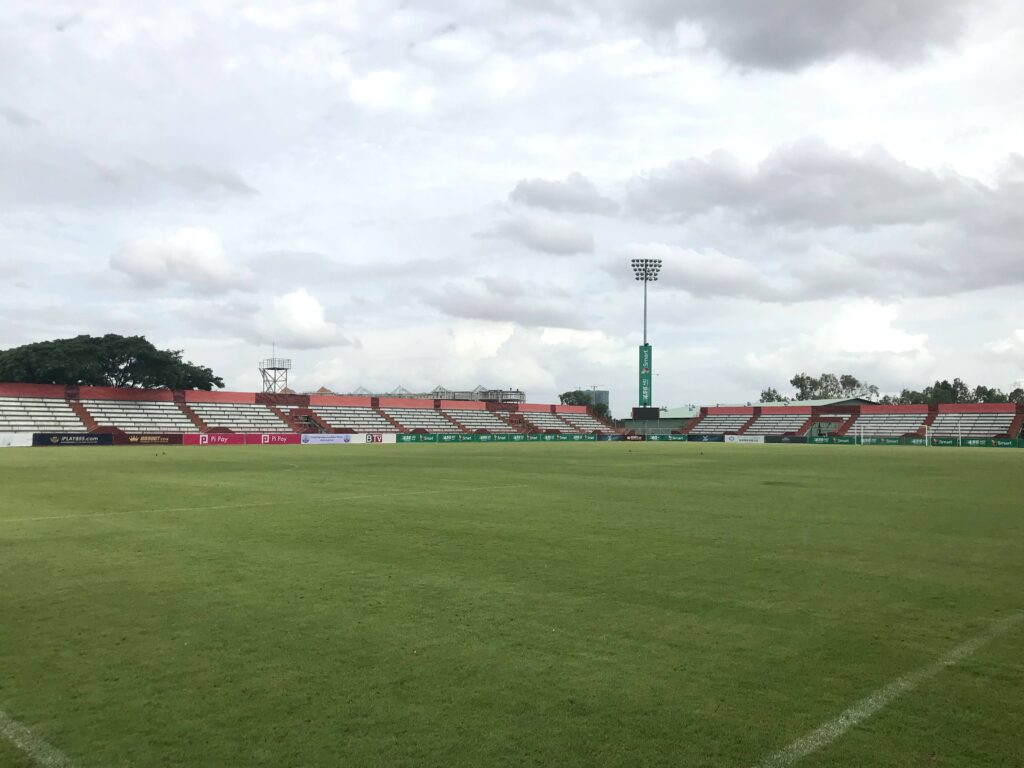 – What about the treatments and circumstances of the team?
I'm not really sure about the other teams, but I believe that we have the best of it among all the teams in Cambodia. We are provided nutritionally-balanced meals before every match. We've got 2 home grounds as well. One is a natural-lawn ground for matches, and the other one is for practices.
– Could you tell us about the issues and the objectives of the team?
First, we have a lot of aggressive players whereas there are fewer defensive players, which often results in the loss of scores. We need to strengthen our defensive side.
Secondly, we have mental weaknesses and always have ups and downs emotionally. We need to strengthen that kind of weak mind to enable us to compete throughout the whole year.
– What are the features of Cambodian soccer?
It is really aggressive. They tend to go for a head-on fight in 1-on-1 situations, and the eagerness toward scores is something I should always learn. On the other hand, the aggressiveness often leads them to rough plays as well.
– What are your objectives in the future?
First of all, that's winning the championship. Then, I'd like to participate in the AFC Cup. I'd also like to play soccer professionally in various countries. As you might have not heard, there's a country named Azerbaijan in Eastern Europe, where there'd still be no Japanese reached for soccer. I'd like to play in such countries as well.
– Can you give our readers some messages?
I'd like you all to come to see our games first. There's a large audience at international games, but when it comes to the matches of the Cambodian League, it's really small. As it is a professional league, not only the techniques of soccer but also the business side of it has to grow as well. Cambodian soccer will grow more and more if the number of audiences raise in association with the economic growth. The range of the ticket price is from 5000 riels, which is pretty cheap, and you can just come and enter the matches with tickets sold at the door, so please come and support The Cambodian League.
– Dreams don't necessarily come true.
However, Mr. Suzuki has realized his dream as a result of keeping on dreaming and constant efforts on it. I hope that this story will tell the excellence of keeping on dreaming to the young people in Cambodia.
The games of the Cambodian League are not scheduled through the year, not like J-League, so we can't always know when there'd be games held. There're more issues that the league has to face and improve like this, but I'd like to expect a great future of Cambodian soccer scene.